Volunteer support is essential to our work here at Scottish Refugee Council, and volunteers are valued members of our teams.
We are recruiting new volunteers! Have a look below for details of current opportunities.
To find volunteer opportunities with other organisations that support refugees and people seeking asylum, please visit the websites of Volunteer Glasgow and Volunteer Scotland to help your search.
Volunteering opportunities for refugees and people seeking asylum
We work with other charities and organisations across Scotland to support people seeking safety here to access volunteering opportunities. If you are interested in involving refugee volunteers in your organisation, please email us! If you are a refugee or in the asylum process yourself - see our Want to Volunteer section below.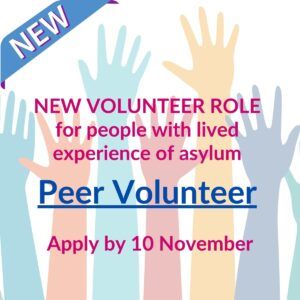 We are looking for new volunteers to join our team!
Our Peer Integration Project is recruiting volunteers who have lived experience of the asylum system.
As a member of this new team of volunteers, you will be supporting each other to design, develop and deliver facilitated sessions on refugees and asylum seekers' rights and entitlements.
Read the Peer Volunteer Role Outline for details.
How to apply?
Deadline for applications is Friday the 10th of November
Have a look at the volunteer role outline above and complete the application form -
We will email you soon after the deadline to invite you to interview.
Please email us if you have any questions!

 
Help us make Scotland a more welcoming place for people seeking safety